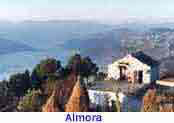 Away from the bright lights of cities, in a peaceful atmosphere lies this picturesque mountain resort, bringing to life all that is beautiful in nature. Bordered by the gentle hills of Kumaon on three sides, its northern front affords a breathtaking view of the Trishul peaks. Perched atop the 5 km-long saddle-shaped ridge of the Kashya hills it is renowned for its healthy climate.
Welcome to the cultural centre of Kumaon- Almora
_______________________________________________________
General Information:
Location: Kumaon Himalayas, State of Uttar Pradesh, India
Altitude: 1,650m (5400 ft) above sea level
Area: 11.9 sq.km.
Population: 53,507
STD Code: 05962
Best Season: April-June; September-October
Temperature:
| | | |
| --- | --- | --- |
| Climate | Max | Min |
| Summer | 29°C | 11°C |
| Winter | 15°C | 4°C |
Clothing:
| | |
| --- | --- |
| Summer | Light Woollens |
| Winter | Heavy Woollens |
Language: Hindi, English, Kumaoni
Festivals: Nanda Devi Fair, Uttarayani Fair, Jageshwar Mela, Dussehra Festival, Autumn Festival
_____________________________________________________________________________
Getting There:
Air: The closest Airport is Pantnagar which is 127 kms away.

Rail: The closest railway is Kathgodan. This is 91 kms away from Almora. Regular train services are there from Delhi, Lucknow, Calcutta, Agra , Bareli. Romper and meter gauge trains run till Llama(112 kms) . From Kathgodam and Llama there are buses and taxis available.

Road: Almora is connected by road from all the main cities of Utter Pradesh and Delhi. The Kumau Motor Owners Union runs buses from Haldwani. Nainital has many travel agents running their buses to Almora.

Major distances:

Delhi 380Km
Kathgodam 91Km
Ranikhet 52Km
Kausani 51Km
Nainital 66Km

Local Transport: Taxis / Jeeps
_________________________________________________________________________________
Nanda Devi Temple
This 1000-year old temple is one of the main attraction of Almora. Its walls have carvings on them. Every year a festival is held here in which youth from various mountainous areas come here to participate in this dance festival.
Chitai Temple
This temple is dedicated to Lord Golu. The people of Kumaun worship him. Once a wish is fulfilled people hang little bells in this temple. Therefore there are thousands of little bells hanging there. The view of the Himalayas is extremely beautiful from here. This temple is 8 kms away by walk through a beautiful pine forest, but one can go by cart too.
Simtola

This picnic spot is located in an idyllic setting. It is 3 kms from Almora and harbours a good view of the beautiful mountains covered with pine and deodar trees.

Kalimath and Kasar Devi

It is 4.5 kms from Almora and offers a good view of Almora town. Near Kalimutt is the temple of Kasar Devi. This ancient temple was built on a mountain peak in the second century. The distance between Kalimatt and Kasar Devi is less than 1 km and can be easily covered by foot. The surrounding area has become the home of many foreigners. The main town is 6 km away.
Bright End Corner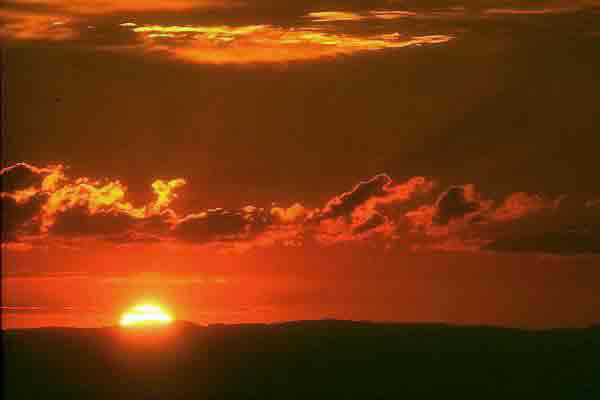 2 km from Almora it is a popular view point to enjoy the sunrise and sunset on the snowpeaks. A circuit house close by allows tourists to spend some time in this peaceful surrounding. The Vivekananda Library is close by and has many books on literature. A little away is the Vivekananda Memorial where Swami Vivekananda had stopped for a while on his journey to the Himalayas.
Deer Park
Another popular outing, at Narain Tiwari Debal 3 km from Almora
Mohan Joshi Park
This park is located around a V-shaped artificial lake
Martola
This picnic spot amidst gardens is 10 kms away from Almora. Most of the people who live here are foreigners. Buses and taxis come up to a point called Panuwanaula and from there onwards one has to walk.
____________________________________________________________________________
Binsar
30 km from Almora at a height 2412 mts above sea level, Binsar offers the ultimate view of the Himalayas - a 300 km wide panorama which includes the breathtaking peaks of Kedarnath, Chaukhamba, Trisul, Nandadevi, Nandakot and Panchchuli. Binsar has also beautiful forests of oak & rhododendron and abounds in Alpine flora, ferns, hanging moss and innumerable species of wild flowers.
Jageshwar
Jageshwar is a group of ancient temples. Situated on the Jataganga, on the road to Pithoragar 34 km away from Almora this temple of Shiva is situated amidst a dense Deodar forest and has a lot of mythological importance. Here there are about 164 temples of this kind. According to legend, Shiva came here to perform penance after the sacrifice of Sati, and earned the wrath of the Sapta Rishis. Among. one of the Jyotirlingas,
Bageshwar
90 kms from Almora, Bageshwar is the trade center of Kumaun. Founded in 1450, on the banks of the river Sarayu, near its confluence with the Gomti, it has a temple of Baghnath. Hotels and tourists guesthouses are available here for accommodation. Further ahead from here is the Pindari Glacier.
Baijnath
Baijnath is situated at a height of 4000 ft on the left bank of the Gomti river. It is 71 km from Almora. The beautifully located 13th century temples here are fine examples of temple architecture.
Katarmal
This 800-year old Sun Temple is the second in importance after the Sun Temple of Konark in Orissa. Seven kms away from Almora this historical important temple is an example of intricate sculpturing. This temple is in need of restoration now.
___________________________________________________________________________________
Accomodation
| | |
| --- | --- |
| Hotels | Telephone Nos. (Std: 05962) |
| Hotel Himsagar (Middle Budget) | 30711 |
| Hotel Shikhar (Low Budget) | 30253 |
| Hotel Savoy (Low Budget) | 30329 |
| Hotel Surmool (Shoestring) | 22860 |
| Hotel Konark (Shoestring) | 31217 |
_______________________________________________________________________________
Authors Diary:
Each and every inch of Almora is filled with scenic beauty. The snow capped peaks of the Himalayas look like a long train of ice and snow from here. The town has maintained its ancient tradition even today. This is clearly evident in the construction of the houses and in the roads made out of slate stone. Unlike Shimla, Ranikhet and Nainital which were developed by the English, Nainital was exclusively developed by Indians.
Once upon a time, it was the capital of Kumaun. It was set up by King Balo Kalyan Chand in 1563.The descendents from the Kyutar dynasty and the Chand dynasty ruled here in the old times. The forts, other historical monuments, courts and governmental offices are still present today and lend Almora an ethnic look. Numerous temples dot the landscape. It also has many fruit orchards like apples, peaches, apricots, plums, etc.
If you visit Almora do not forget to taste the locally made sweets which are famous all through the country. Apart from this woolen clothings made from the fur of the Angora rabbit can be bought here. Brass and Copper items can also a favorite for souvenir hunters.
Almora a hill station with its own historical, cultural and political significance is must for those who love seeing nature in full blossom.
_________________________________________________________________________________________