Counseling

Editorial

Psychiatry

Deaddiction

True Stories

Stress

Book Fair

Video Gallery

Refer this Site

Contact Us
Disclaimer
© Twilight Bridge™ All Rights Reserved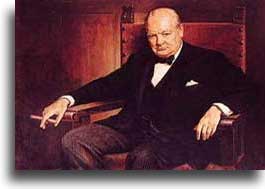 "I had the good fortune to meet and talk one evening with Churchill's only son, Randolph, who died in 1968. He told me about his father's serious and prolonged depressions. He also told me that his father had periods of high energy when he was forceful, driving, tireless, and in need of very little sleep. At those times, Winston seemed to be able to achieve whatever he wished, to conquer any impossible situation, to succeed brilliantly as a writer, politician, warrior, or prime minister. From the family pedigree I would conclude that this was indeed a family in which moodswing prevailed and had been passed down from generation to generation. All his life he fought against severe spells of melancholy - his episodes of "Black Dog" or deep depression."

Dr. Ronald R. Fieve in his book entitled "Moodswing"
Churchill lived a long life and one probably richer in experience than most in the course of human history. His biography runs to some eight volumes. It is well known that he suffered throughout his life from what is now known as bipolar mood disorder - what used to be called manic-depressive disorder. This really makes his accomplishments both more astounding and at the same time easier to understand. Churchill will probably be remembered most fondly for his iron will and tenacity, and his fearless courage in the most difficult of circumstances. He had the ability to inspire a nation.
Documents of Inspiration - Churchill's Life and Times
Childhood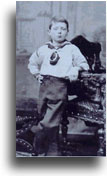 Winston Leonard Spencer Churchill was born at Blenheim Palace on St Andrew's Day, 30 November 1874. His father, Lord Randolph Churchill, was a younger son of the Duke of Marlborough. His mother, Jennie Jerome, was the daughter of an American business tycoon.
Winston's childhood was privileged but not particularly happy. Like many Victorian parents, Lord and Lady Randolph Churchill were distant figures. Letters from his schooldays reveal a willful and somewhat rebellious little boy.
Adventures of Youth
In 1895 Churchill graduated from Sandhurst. He travelled to the United States and Cuba, saw action on the north west frontier of India in 1897, and the following year joined Kitchener's expeditionary force to the Sudan and participated in the cavalry charge against the Dervishes at the battle of Omdurman.
His adventures continued in 1899 when he sailed to South Africa as a correspondent of the Morning Post to cover the Boer War. He was captured and spent his twenty-fifth birthday as a prisoner of war, before escaping and making his way across the enemy lines to Durban.
Early Steps in Politics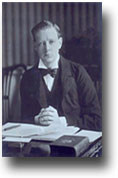 Churchill was first elected to parliament in 1900, shortly before the death of Queen Victoria. He took his seat in the House of Commons as a Conservative member for Oldham. After four years he crossed the floor and joined the Liberals, rising swiftly through their ranks. As President of the Board of Trade he helped to lay the foundations of the welfare state, while his brief tenure as Home Secretary is still remembered for the Tonypandy Riot and the siege of Sidney Street.
A Lasting Love
In 1908 Churchill married Clementine Hozier, granddaughter of the 10th Earl of Airlie. They had five children, four of whom survived into adulthood. The marriage was to prove a long and happy one, though there were quarrels. Their personal correspondence sheds much light on the private people behind the public myth. From the first years of their marriage Winston and Clementine routinely ended their letters with drawings. He was her 'pug' or 'pig'. She was his 'cat'.
First World War Days
By the time war broke out in 1914 Churchill was First Lord of the Admiralty and already a major national figure. As the conflict in Europe degenerated into a stalemate he became convinced that the only way to end the war quickly was to mount a huge out-flanking attack on Turkey through the Dardanelles. But his attempts to force the straits using only ships foundered, leading to the disastrous Gallipolli landings and costing Churchill his job.
Rather than remain idle, Churchill sought active service on the Western Front. In January 1916 he was appointed as Lieutenant-Colonel commanding the 6th Battalion Royal Scots Fusiliers.
Ups and Downs
Churchill successfully contested Dundee for the first time in May 1908. His ministerial responsibilities kept him away from his constituency. There were also clear differences in lifestyle and background between Churchill and most of his constituents. By the time of the 1922 election, support for the Labour party had grown and the local newspapers were hostile to Churchill.
Worse still, appendicitis kept him from active campaigning. Clementine spoke in her husband's place, but was spat upon for wearing pearls. When the result was declared, Churchill was left, as he wryly observed, without a seat, without a party and without an appendix.
Between 1922 and 1924 Churchill left the Liberal party and rejoined the Conservatives. Anyone could 'rat', he remarked, but it took a certain ingenuity to 're-rat'. To his surprise he was appointed Chancellor of the Exchequer in Stanley Baldwin's government - a position he held until the Tory defeat in 1929.

During the 1930s Churchill fell out with Baldwin over the question of giving India greater self-government and became more and more isolated in politics. His dire warnings about the rise of Hitler and the dangers of the appeasement policy initially fell on deaf ears.
War Breaks Out
When war came in 1939, Churchill was inevitably recalled, as first lord of the admiralty. The signal went round the fleet, "Winston is back," a quarter of a century after his first going to the post. But the first wave of German military power overwhelmed Poland in September, and in the spring of 1940 the tidal wave overwhelmed northwestern Europe, followed shortly afterward by the fall of France.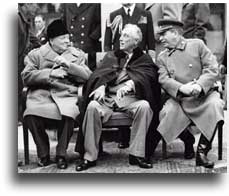 On May 10, 1940, in the midst of this cataract of disasters, Churchill was called to supreme power and responsibility by a spontaneous revolt of the best elements in all parties. He, almost alone of the nation's political leaders, had had no part in the disaster of the 1930's, and he really was chosen by the will of the nation. For the next five years, perhaps the most heroic period in Britain's history, he held supreme command, as prime minister and minister of defense, in the nation's war effort. At this point his life and career became one with Britain's story and its survival.
His immediate contribution was to instill in the British people his own fiery resolve and will to resist. Throughout the tense summer of 1940, when Britain stood alone, his speeches proved an inspiration.

Yet Churchill did more than just talk. He toured the country inspecting the bomb-damaged towns and cities. He also worked tirelessly on diplomatic and military initiatives to regain the offensive. It was from Scapa Flow that he sailed in August 1941 for a crucial secret meeting with President Roosevelt.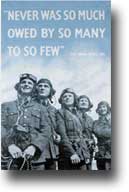 As the threat of German invasion receded, the tide of war began to turn. Hitler's invasion of the Soviet Union brought Churchill an unlikely ally in the person of Joseph Stalin. The Japanese bombing of Pearl Harbour transformed the war into a truly global conflict. It also precipitated the United States into the war, and with the Americans came the promise of an ultimate Allied victory. By October 1942 Churchill clearly felt confident enough to accept the Freedom of the City of Edinburgh.

Churchill worked tirelessly to keep the Grand Alliance alive, shuttling between capital cities and conferences. It is often forgotten that he celebrated his 70th birthday during the war. While he tried hard to project a fit and active public image, the strain inevitably took a toll on his health.
The Final Years
Churchill did not allow his shock defeat in the 1945 General Election to silence him for very long. He remained a hugely important international figure, and used his status to speak out about the new threats posed by the Cold War and the need for reconciliation in Western Europe. In October 1951 the Conservative Party achieved a narrow victory at the polls and Churchill became Prime Minister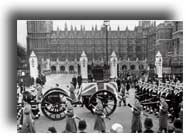 once again. Failing health forced him to resign the premiership in April 1955, but he remained an MP until 1964.
Churchill passed away on 24 January 1965. He received the first state funeral given to a commoner since that of the Duke of Wellington.
I am ready to meet my Maker, whether my Maker is prepared for the ordeal of meeting me is another matter... Churchill
________________________________________________