3 pounds boned chicken breasts

1/8 teaspoon garlic salt

2 tablespoons red pepper, [or less]

1/2 teaspoon black pepper

1 cup flour

vegetable oil
Cut chicken breasts lengthwise into 1-inch pieces. Sprinkle garlic salt freely over chicken, turning pieces so each is coated. Continue with red, then black pepper. Set aside for 1 hour to let chicken absorb flavor. Dust chicken with flour, then deep fry in vegetable oil at 375 degrees F. for 3 minutes. Drain on paper towels. Serve warm or cold.
1 ten ounce package frozen chopped spinach, thawed and drained

1 8-ounce package cream cheese softened

1/2 cup chopped scallions

1/2 teaspoon garlic pepper

1 cup shredded cheddar cheese

1/3 cup rehydrated, chopped sun-dried tomatoes or chopped and

drained water chestnuts

crackers and or cut-up assorted fresh vegetables for serving a

few shakes of tabasco sauce...it makes it sooooooooo good...
In a one quart mini electric slow cooker, mix together spinac and cream cheese. Stir in the scallions and garlic pepper. Cover, plug in the cooker and cook for 2 hours, stirring once or twice until very hot. Reserve 2 tablespoons cheese for the top. Stir in the remaininng cheese and sun-dried tomatoes. Sprinkle the reserved cheese on top. Pass crackers and or vegetables for dipping.

Ingredients:
1 1/2 lb. mushrooms
1/2 lb. ground sausage
1/2 cup shredded mozzarella cheese
1/4 cup Italian seasoned dry bread crumbs
1 Tablespoon margarine

Remove stems from mushrooms; chop finely and set aside.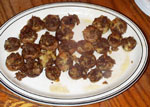 Brown the sausage in a pan; remove from pan, cook chopped stems in sausage drippings. Remove from heat; add sausage, bread crumbs, and cheese. Fill the mushrooms with this mix.
Heat oven to 400 degrees.
In a 13 x 9 inch cooking dish, melt the margarine; set the filled mushrooms in the dish and cook for about 15 minutes.
Makes 6 servings

Ingredients:
- 1 8 oz. package of tri-colored pasta, cooked
- 3 ears of cooked corn, with the kernels cut from the cob
-1 bunch broccoli florets, cut small and steamed
- 15 large black olives, sliced
- 15 green olives with pimento, sliced
- 1 14 oz. can artichoke hearts, halved
- 1 red pepper, diced
- 1 8 oz. can water chestnuts
- 1 15 oz. can chickpeas, rinsed and drained
- 1/4 cup Italian dressing or more, to taste

Directions:
Combine all the ingredients, mix well, and refrigerate. Serve cold.