Recipes for St. Lucia Day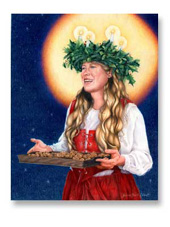 At Lucia Scandinavians usually bake cookies and bread to have with the "Lucia coffee". Here are a couple of the recipes:
Luciapepparkak or Gingerbread Cookies
1 cup cornsyrup
1 ½ cups light brown sugar
1 cup of butter or margarine
2 eggs
1 ½ tbsp cloves
1 ½ tbsp ginger
4 - 5 cups flour
1 tbsp baking soda
Warm in a big pot on low heat: syrup, sugar and butter until the butter melts, not longer. Put it aside to cool. Then mix in the eggs, spices, baking soda and flour (keeping some flour aside for rolling out the dough). Let the dough rest overnight at room temperature and cover with plastic or wax paper. The next day: roll the dough (quite thin) and cut out the cookies using a cookie cutter. Bake in an oven at 350-375° F for 6 minutes. This recipe makes about 150 cookies.
Lussebullar or Lussekatter or Saffron Bread
Lussekatter buns, made with saffron and raisins, also come in many traditional shapes. Roll over each to find out what it's called in Swedish and English. Recipes are included in "Lucia Morning in Sweden."

Ingredients

1 tbsp saffron
2 cups milk
3 tbsp yeast (quick rise)
1 cup butter or margarine
1 egg (beaten)
½ tsp salt
1 ½ cups sugar
½ cup chopped almonds
1 cup raisins (optional)
6-7 cups flour

Topping

1 beaten egg
coarse sugar
chopped almonds
raisins

Crush saffron and mix with a tbsp of sugar in a mortar. Warm the milk (not too hot) and melt the butter in the milk. Add the rest of the ingredients except for the yeast and flour. Mix the yeast in a separate bowl with a little of the flour. Add to mixture and mix well. Add the rest of the flour a little at a time. Knead and let rise in a warm place. Once risen, punch down and knead again. Roll the dough to whatever shape(s) you prefer. Place on a cookie sheet, raise, brush with egg and sprinkle with coarse sugar, almonds, and raisins. Bake "small shapes" in a very hot oven at 375-400°F for 5 to 8 minutes and bake "larger shapes" at 350-375°F for 13 to 17 minutes.