History of Santa Lucia
A thousand years ago in Sweden, King Canute declared that Christmas would last a month, from December 13, the feast of St. Lucia until January 13, or Tjugondag Knut (St. Canute's Day). No one is quite sure why Lucia, a 4th century Sicilian saint, came to be so revered in Sweden. Some say she once visited the country, and others believe that Christian missionary stories of her life entranced the Swedish people. Whatever the origin, these new Christians who converted to Christianity around 1000 acquired a special fondness for the saint whose feast day marked the return of the sun and whose name itself means "light."
Santa Lucia is celebrated all over Sweden and in Norway on December 13th. The custom--a young girl dressed in white with candles on her head--has a complicated background, more fiction than fact. Its origin is from 16th century Germany, but it is combined with the Middle Ages custom of celebrating before a fast.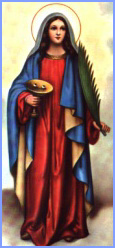 The Italian Santa Lucia (d. 304, Syracuse, Sicily; feast day December 13) was a virgin and martyr who was one of the earliest Christian saints to achieve popularity, having a widespread following before the 5th century. She lived in Syracuse, a town on the Italian island of Sicily. She is the patron saint of the city of Syracuse. Because of various traditions associating her name with light, she came to be thought of as the patron of sight and of the blind and was depicted by medieval artists carrying a dish containing her eyes.
According to apocryphal texts, the beautiful Lucia came from a wealthy Sicilian family. In the days of early Christian persecution, Lucia is said to have carried food to Christians hiding in dark underground tunnels. To light the way she wore a wreath of candles on her head. Spurning marriage and worldly goods, she vowed to remain a virgin in the tradition of St. Agatha. An angry suitor reported her to the local Roman authorities, who sentenced her to be removed to a brothel and forced into prostitution. This order was thwarted, according to legend, by divine intervention and Lucia became immovable and could not be carried away. She was next condemned to death by fire, but she proved impervious to the flames. Finally, her neck was pierced by a sword and she died. In actuality, Lucia was probably a victim of the wave of persecution of Christians that occurred late in the reign of the Roman emperor Diocletian. References to her are found in early Roman sacramentaries and at Syracuse in an inscription dating from AD 400. As evidence of her early fame, 2 churches are known to have been dedicated to her in Britain before the 8th century, at a time when the land was largely pagan.
One of the patron saints of virgins, St. Lucia is venerated on her feast day, December 13, by a variety of ceremonies. At one time, December 13th was the shortest day of the year--St. Lucia, the queen of light, was believed to lead the way for the sun to bring longer days. People lit "St. Lucy's fires" on the evening of her feast day, throwing incense into the flames. They then bathed in the smoke, believing it would protect them from witchcraft, disease, and other dangers. Music was played to accompany the sun's changing course.
In Sweden, St. Lucy's Day marks the beginning of the Christmas celebration. The night before, children leave their shoes outside in order to collect her offerings. Then in the morning, the eldest daughter in each family dresses in a white dress with a red sash, and wears an evergreen wreath with 7 lighted candles on her head. She carries coffee and buns to each family member in his or her room. A traditional song is sung:
Santa Lucia, thy light is glowing
Through darkest winter night, comfort bestowing.
Dreams float on dreams tonight,
Comes then the morning light,
Santa Lucia, Santa Lucia.