The International Museum of the Horse
The largest and most comprehensive equestrian museum in the world.
Monty Roberts - The Man Who Listens To Horses
Join-Up with Monty Roberts and learn how he starts horses to saddle, bridle, and rider without any fear or pain.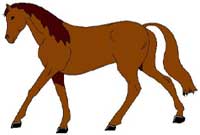 Leadmare
Information, photos, pictures, articles, and book reviews geared toward kids.
Equines of the World
Dedicated to helping abused horses, and to educating the public. Also, free classifieds, and forum.