1. Paint the longer tube and the undersides of the two bowls in desired colors. Let dry. Glue the rims of the bowls together so the undersides show. If necessary, clamp them with clothespins while the glue dries.
2. Glue the long tube along its length to one of the bowls. After the glue has dried, decorate the turkey by gluing crepe paper around the edges of the front bowl.
3. Cut out a construction-paper beak and eyes, and glue them to the top of the tube along with the balloon for the wattle. To make the turkey's feet, trace a child's hand onto construction paper; then cut it out and glue it to the bottom of the tube.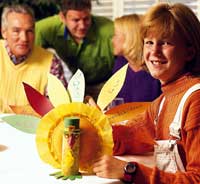 Each feather on the turkey
symbolizes something that you're thankful for.