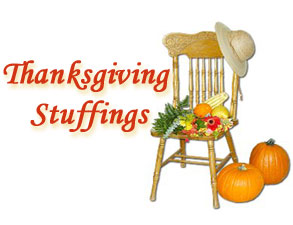 ANDOUILLE SAUSAGE AND CORN BREAD STUFFING

Makes 10 to 12 servings

Bruce Aidells, founder of Aidells Sausage Company, says, "Stuffing was the most important part of my family's holiday menu. The turkey was always overcooked, but the stuffing was moist and delicious. We usually had two, sometimes three stuffings, but I leaned toward the kind with sausage. It was meaty and spicy, just like this one."

2 tablespoons (1/4 stick) butter
1 pound andouille sausages,* cut into 1/3-inch pieces
1 12-ounce package breakfast-style bulk sausage
3 cups chopped onions
2 cups chopped celery
2 cups chopped red bell peppers
1 cup chopped green onions
2 teaspoons chopped fresh thyme
1 teaspoon hot pepper sauce
1 teaspoon dried rubbed sage
12 ounces dry corn bread stuffing mix

1 1/2 cups (about) canned low-salt chicken broth

Melt butter in heavy large skillet over medium-high heat. Add all sausages and cook until brown and cooked through, breaking up bulk sausage with back of fork, about 5 minutes. Add onions, celery and red bell peppers. Cover and cook until vegetables are tender, stirring occasionally, about 12 minutes. Stir in green onions, thyme, hot pepper sauce and sage. Transfer sausage mixture to large bowl. (Can be prepared 1 day ahead. Cover and refrigerate.) Stir stuffing mix into sausage mixture. Season with salt and pepper.

To bake stuffing in turkey: Loosely fill main turkey cavity with stuffing. Add enough broth to remaining stuffing to moisten lightly (about 1/4 to 1/2 cup, depending on amount of remaining stuffing). Generously butter glass or ceramic baking dish. Spoon remaining stuffing into dish. Cover with buttered foil, buttered side down. Bake stuffing in dish alongside turkey until heated through, about 30 minutes. Uncover stuffing. Bake until top is just crisp and golden, about 15 minutes.

To bake all of stuffing in baking dish: Preheat oven to 350°F. Generously butter 15x10x2-inch, 13x9x2-inch or 8-inch square glass or ceramic baking dish, using size called for in recipe. Add enough broth to stuffing to moisten (about 3/4 cup to 1 1/2 cups.) Transfer stuffing to prepared dish. Cover with buttered foil, buttered side down; bake until heated through, about 30 minutes. Uncover and bake until top is crisp and golden, about 20 minutes longer.

*Smoked pork-and-beef sausages that are sold at specialty foods stores. Smoked bratwurst, kielbasa or smoked Hungarian sausages can be substituted.

Traditional Herb Stuffing or Dressing

1/2 C butter
1 med onion, chopped
2 stalks celery, chopped
4-6 cloves garlic, minced
2 tsp. salt
1 tsp. thyme
1 tsp. rosemary
1 tsp. sage
1 tsp. black pepper
1/2 tsp. savory
1 T dried parsley
1 tablespoon poultry seasoning
8 C stale bread,broken into one-inch pieces
about 3 C poultry stock

Serves 6-8

Melt butter in large skillet and add all ingredients except the bread and stock. Cook over medium heat until onions are soft. Pour into a large mixing bowl. Add the bread and stock and mix well.

To stuff a turkey: Fill main turkey cavity and neck cavity with stuffing. Bake remaining dressing in a dish as outlined below.

To bake dressing in pan: Preheat oven to 350°F. Butter a 15 x 10 inch baking dish. Transfer stuffing to prepared dish. Cover with buttered foil and bake until heated through, about 45 minutes. Uncover and bake until top is golden brown, about 15 minutes.

Sausage and Apple Stuffing

2 sticks plus 3 tablespoons butter, divided
2 cups water
2 large bags of your favorite cornbread stuffing crumb
1 pound pork sausage (not links)
1 large onion, diced
3 cloves garlic, minced
2 stalks celery, diced
3 medium apples, cored, sliced
1 cup chopped walnuts

Serves 8

In a large pot melt 2 sticks butter in water. When melted add dry cornbread stuffing stirring to incorporate liquid, set aside.

In a large saute pan set over medium high heat melt 1 tablespoon butter and add sausage. With a wooden spoon break up pork and saute until lightly browned and cooked through. Remove sausage to paper towels to drain. In the same saute pan melt remaining butter and saute onions with the garlic and celery until onions are translucent and celery is crisp tender. Add walnuts and saute for 1 minute. Add apples and saute for one minute more. Remove from heat. Combine cornbread stuffing with sauteed ingredients and stuff turkey. Roast turkey as usual. Alternatively: fill a 9 by 13 by 2 inch pan with the stuffing and bake in a preheated 350 degree oven, covered with foil for 1/2 hour. Remove foil and bake for 15 minutes more.
1 cup chopped onion
1/2 cup butter
1 1/2 teaspoons salt
1 cup chicken stock or bouillon
8 cups small bread cubes
5 hard-cooked eggs, chopped
1/2 cup chopped parsley
Sauté onion in butter until soft; sprinkle with salt then pour stock into the onion mixture. Bring to a boil. In a large bowl combine egg, parsley and bread cubes. Pour onion liqued over the mixture. Stir gently until well mixed. Makes about 12 cups.
Stuffing can be baked in the bird or bake at 325° for about 45 to 50 minutes in a covered, buttered casserole.