Soups and Salads for Thanksgiving day
Ingredients:
4-5 cups Broccoli flowerettes
1/2 red onion, sliced
1/2 cup cheddar cheese, grated
1/2 lb. bacon, fried and chopped
Dressing (below)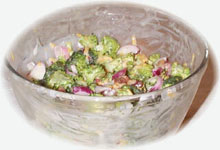 Combine all ingredients except dressing. For dressing, combine 1 cup Miracle Whip (no substitutions), 2 Tablespoons vinegar, and 6 Tablespoons sugar. Mix well, and pour over salad ingredients. Mix. Chill and serve.
(Note: This makes an excellent sweet and tangy salad!)
1 cup mixed fruit or fruit, cocktail
1/2 cup Mandarin oranges
1/2 cup pineapple bits
1/2 cup minature marshmallows
3/4 cup sour cream
1/4 cup maraschino cherries, halved
1/4 cup red seedless grapes
lettuce cups, optional
Drain fruits well. Combine all ingredients except lettuce, mixing lightly but throughly. Chill well.
Serve in lettuce cups with salad dressing, if desired.

Ingredients:
2 tsp. soft margarine or butter
1/2 cup diced celery
1/2 cup minced onion
2 tbsp. flour
1/3 cups skim milk powder
1 1/2 cups skim milk
1/8 tsp. salt
1/8 tsp. white pepper
3-4 drops hot pepper sauce
2 tbsp. white wine
6 oz. crab meat or mock crab, shredded

Directions:

In a heavy saucepan, melt the margarine. Add the celery and onion and saute, at very low heat, for 10 minutes. You want to soften the vegetables but not brown them. Stir in the flour. Blend well. Add the skim milk powder to the skim milk and mix well. Gradually pour about 1/2 cup (125 mL) of the milk into the onion, flour mixture. Stir constantly until it thickens and there are no lumps of flour. Continue to stir and add remaining milk gradually, until it is all incorporated. Season with the salt, pepper, hot pepper sauce and wine. Heat, below a boil, for 3-4 minutes. Stir in the crab and heat through. Serve at once.

1 1/2 tsp. corn oil
1 1/2 C yellow onions, medium diced
1/2 C sliced green onions, both green and white parts
1 3/4 C peeled Yukon Gold potatoes, medium diced
3/4 lb. cleaned spinach leaves
1 1/2 quarts vegetable stock
1/2 C heavy cream
2 1/4 tsp. kosher salt
3/4 tsp. pepper

Serves 8

In a wide skillet, heat oil and sautÚ onions, green onions and potatoes until onions soften. Do not brown. Add vegetable stock and stir well then bring to a

boil. Reduce heat and simmer for 15 minutes, until potatoes are soft. Add spinach and stir until leaves wilt, 1/2 minute. Remove from heat immediately -- an important step or you will lose that beautiful brilliant green color. Cool the soup to warm. PureÚ in batches in the blender or food processor. Add cream and season with salt and pepper.

Tip:
It is important to cook, cool and pureÚ this soup very quickly!