Mother's Day Craft Ideas
Here is a unique flower for children to make and give to their moms on Mother's Day. The hand forms a sign language symbol for "I love you."
Materials:
Construction paper, burlap, or felt
Plaster of Paris
Polyester or cotton batting (is using fabric)
Tagboard
Water
Ice Cream Stick or thin dowel
Colored paper drinking cup
Scissors
Glue
Pencil or felt-tip pen
Newspapers
Container for plaster
Directions:
Have children trace around their hands on tagboard with a pencil to make a handprint.
Cut out pattern and place on folded construction paper, burlap or felt.
Trace around pattern with pencil or pen and carefully cut out pieces. Insert end of stick or dowel between handprint cutouts. Dot dowel with glue to secure. Glue hands together by lining edges with glue. Let dry. Bend middle and ring fingers down and glue to palm, thumb out. Cover work area with newspapers.
Mix and quickly pour plaster into cup. Insert flower and secure until set and dry.
Paper or felt leaves may be glued to stem of flower,
Materials:
Dark Construction Paper
Water
White Tempera Paint
Atomizer Bottle Used for Household Cleaner
Directions:
Add enough water to the tempera paint so that it sprays easily. Pour into atomizer. Have child place hands on paper. Step back and spray. When hands are removed, silhouettes will remain on the paper. Have children wash hands with soap and water.
Materials:
Self-hardening clay
Rolling pin
Round pie tin
Knife
Nail
Tempera paint
Shellac
Yarn
Directions:
Roll clay with rolling pin until it is about one inch thick. Cut out a circle, using the pie tin as your guide. Have the child make an imprint of his/her hand(s) in the clay. Punch a hole at the top of the plaque with the nail.
Allow the plaque to dry thoroughly, then paint. Apply shellac after the paint dries. Loop a short length of yarn through the hole so that the plaque may be hung.

Wallpaper Bookmarks
You will need:
Wallpaper samples
Hole punch
Ribbon or floss
Craft glue
Scissors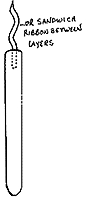 Glue two strips of wallpaper together - back sides facing. When dry, trim to approximately 1 1/2 inches wide by 6 inches long, or as desired. Trim the end to a point or slant, etc, as shown in the picture. Punch a hole 1/2" from the top and thread with a ribbon or floss.

Cut out a motif from the wallpaper. Back with plain or coordinating paper. Sandwich a long ribbon between the layers.
Present her with this lovely bookmark and see her smile on the special day.