You will need: oil to grease a cookie sheet
1 cup finely packed brown sugar
1/4 cup butter or margarine, softened
1 egg, beaten
1/2 teaspoon vanilla extract
1 teaspoon freshly squeezed lemon juice
1/2 cup all-purpose flour
1/2 teaspoon baking powder
1/4 teaspoon salt
1 cup toasted sesame seeds
Preheat the oven to 325°. Lightly oil a cookie sheet. Mix together the brown sugar and butter, and beat until they are creamy. Stir in the egg, vanilla extract, and lemon juice. Add flour, baking powder, salt, and sesame seeds. Drop by rounded teaspoons onto the cookie sheet 2 inches apart. Bake for 15 mintues or until the edges are browned. Enjoy!
Benne cakes are a food from West Africa. Benne means sesame seeds. The sesame seeds are eaten for good luck. This treat is still eaten in some parts of the American South.
Ingredients:
1-1/2 cups (3 sticks) butter, softened
3 cups sugar
2-1/2 teaspoons vanilla extract
5 eggs
2-1/2 cups all-purpose flour
1 cup HERSHEY'S Cocoa
2 teaspoons baking powder
1 teaspoon salt
1-1/2 cups buttermilk or sour milk
MOUNDS Sweetened Coconut Flakes or pecan or walnut halves (optional)

Directions:
1. Heat oven to 325°F. Grease and flour 12-cup fluted tube pan or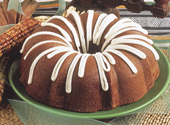 10-inch tube pan.
2. In large mixer bowl, beat butter, sugar and vanilla 3 minutes on medium speed of electric mixer. Add eggs, one at a time, beating well after each addition. Stir together flour, cocoa, baking powder and salt; add alternately with buttermilk to butter mixture, beating well just until blended. Pour into prepared pan.
3. Bake 1 hour and 20 minutes or until wooden pick inserted in center comes out clean. Cool 10 minutes; remove from pan. Cool completely.
4. Sprinkle with powdered sugar or glaze with VANILLA GLAZE or BUTTER RUM GLAZE. Garnish with pecans or walnut halves, if desired.
VANILLA GLAZE
1/3 cup butter or margarine
2 cups powdered sugar
1-1/2 teaspoons vanilla extract
2 to 3 tablespoons hot water

In small saucepan, melt butter. Remove from heat; blend in powdered sugar and vanilla. Stir in water, 1 tablespoon at a time, until glaze is of desired consistency. Spoon onto cake allowing some to drizzle down sides.
BUTTER RUM GLAZE: Omit vanilla; substitute 2 tablespoons light rum or 1 teaspoon rum flavoring. Stir in hot water, 1 teaspoon at a time, until glaze is of desired consistency.
NOTE: Two 9x5x3-inch loaf pans may be substituted for tube pan. Bake at 350°F. 1 hour and 10 minutes.