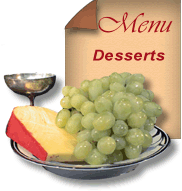 4th of July Red, White, and Blue Pizza
1 pt Strawberries, hulled and halved
1 pt Blueberries
1T plus 1 t Sugar, divided
1 T Brandy
4 6" Pizza Crusts, homemade or storebought
1 1/2 c Whipped topping, thawed
Preheat oven to 450 degrees F.
Combine strawberries, blueberries, 1 teaspoon. of the sugar and the brandy.
Sprinkle pizza crust with the remaining sugar.
Bake 6-8 minutes on baking sheet; cool slightly.
Fill with crust with strawberries and raspberries.
Serve with a big dollop of whipped topping.
Cantaloupe Fruit Salad
2 ea Med. Cantaloupes
1 ea Large Pineapple
1 c Raisins
1 c Fresh Shredded Coconut
1 c Finely Chopped Walnuts
1 ea Large Apple
1 x Low-fat Yogurt

Remove rind and seeds from cantaloupe
Cored, Peeled, and cut into small chunks.
Cored and cut into small chunks.
Cut the cantaloupes into small chunks and mix with the pineapple, raisins, conconut, and walnuts in a large salad bowl. Scoop yogurt into individual serving bowls and pass the fruit salad. Stir to coat and enjoy. This dessert is wonderful on a hot day.