Ingredients: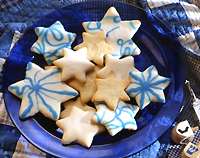 1/2 cup all-vegetable shortening
1/2 cup margarine
1-1/2 cups sifted powdered sugar
1 egg
1/2 teaspoon vanilla
2-1/2 cups all-purpose flour
1 teaspoon ground cinnamon
1/2 teaspoon baking soda
1/2 teaspoon ground mace
Icing (see recipe)

Directions:

1. Combine the shortening and the margarine; beat for 30 seconds. Add the sugar; beat until light and fluffy. Beat in the egg and the vanilla. Combine the flour, cinnamon, baking soda, cream of tartar, mace, nutmeg, and 1/4 teaspoon salt. Add to the margarine mixture; beat well. Wrap and chill dough for 3 hours or until it is easy to handle.

2. On lightly floured surface, roll dough to 1/8-inch thickness; cut with cookie cutters. Place on ungreased cookie sheets. Bake at 350 degrees F about 8 minutes or until edges are firm. Transfer cookies to wire rack and let cool. Spoon white on icing cookies. While white icing is still moist, drizzle with blue icing. Makes about 60 cookies.

Icing: Beat together 3 tablespoons meringue powder, 1/3 cup water, 3/4 teaspoon vanilla, and enough sifted powdered sugar (3 1/2 to 4 cups) to make an icing of drizzling consistency. Remove three-fourths of the icing to leave white. Stir in a few drops blue food coloring to the remaining icing.
 1 2/3 C. flour
 2 eggs, beaten
 1 tsp. baking powder
 1 C. sour cream
 2 T. granulated sugar
 1/2 tsp salt
 1 C. confectioners' sugar
 1 C. oil (for frying)
In large bowl, combine all ingredients except confectioners' sugar and oil.
In frying pan, heat oil to medium heat. Carefully place dough into oil, 1 tablespoon at a time.
Fry for 3 to 5 minutes or until golden brown all over.
Carefully remove doughnuts from oil and place on paper towels to drain.
Gently roll warm doughnuts in confectioners' sugar and set aside.
Serve warm.