This tastes like pumpkin!
1/2 c. sugar
1/2 c. butter
1/2 tsp. ginger
1 tsp. cinnamon
1/2 tsp. salt
1 egg
3/4 c. dark molassses
3/4 c. milk
2 c. flour
1 tsp. baking soda.
Mix together sugar, butter, ginger, cinnamon, and salt. Add one egg and beat until fluffy. Add molasses and milk. Combine flour and basking soda and add to wet mixture. Bake in a round pan at 325 degrees F. for 35 minutes. When cooled frost with orange icing.

Spider Cake
Serving Size: varies
Notes:
For this cake we made two nine inch rounds, and decorated some cupcakes into spiders.
Ingredients:
1 (18 oz.) pkg. chocolate cake mix for the cake
1 (18 oz.) pkg. chocolate cake mix for the cup cakes.
1 stick (1/2 cup) butter or margarine
Chocolate Frosting
2/3 C. Cocoa
3 C. powdered sugar
1/3 C. milk
1 tsp. vanilla extract
1 tube of decorator white frosting
black pipe cleaners for cup cakes
a few chocolate coated candies for cup cakes

Preparation:
Prepare one chocolate cake mix as directed but use two 9 inch pans for the cake. When the cakes cool, frost with chocolate frosting.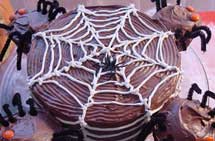 Decorate with the white frosing by painting on a spiderweb shape.

You can decorate cupcakes into spiders by frosting them with chocolate frosting, and cutting pipe cleaners into fourths, and adding four legs to each side. Add the eyes by placing two candies between the two sets of legs.
1/2 cup Butter
1 cup Granulated sugar
1 Egg
1 teaspoon Vanilla
2 cups Flour
2 teaspoons Baking powder
1/4 teaspoon Salt
1 tablespoon Milk
Orange and green food coloring
1 package 5.5oz of lemon drops
Preheat oven to 350~. Cover 3 cookie sheets with foil. Cream butter and sugar. Add egg and vanilla. Beat in flour, baking powder and salt. Add milk if batter is too stiff. Color all but 1/8 of dough orange and color rest green. Roll 1" balls from the orange dough and flatten with your hand to make a pumpkin shape. Place on cookie sheets . Roll stems out of the green dough and attach to the top of the " punkin". Carefully cut out wide spaces for the eyes, nose and mouth with a knife. Fill holes in with crushed lemon candy. Bake 8-10 minutes or until done.
DO NOT ALLOW TO BROWN.
Allow to cool for 10 minutes and carefully peel off foil. Note; Crush lemon drops in food processor. If mixture becomes sticky, add a little powdered sugar while chopping.
Notes:
These can be put together in a jiffy.
Ingredients:
1 lb. white chocolate coating
1 pkg. Nutter Butter Peanut Bars
1 pkg. mini chocolate chips
Preparation:
In the top of a double boiler melt white chocolate coating. Dip cookies into coating covering completely. Set on waxed paper to cool. Spread melted chocolate to areas which did not get covered. Add eyes using mini chocolate chips.