Materials:
1 blue sweat suit to fit
two 18-1/2" diameter circles cut from cardboard
fabric glue
red acrylic paint, paint brush
black marker
1 yard heavy weight white cotton fabric
spray mount adhesive
2 yards of 1/2" wide blue grosgrain ribbon
24" strip of
STICKY BACKŪ brand tape
Instructions:
Cut out two circles of white fabric 1/2" larger in diameter than cardboard. In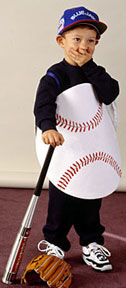 well ventilated area, spray mount adhesive to one side of each circle and lay white fabric on top, smoothing it out. Cut slits along 1/2" overhang, fold back and glue overhang onto wrong side of cardboard. Draw 2 half circles on each fabric backed cardboard with black marker, paint on red "stitches" and letter team name on back of ball.
For suspender to hold up "baseball" placard, cut four 18" strips of ribbon and four 6" strips of STICKY BACKŪ tape. Glue down one end of each 18" ribbon strip to the back of one circle, placing one ribbon on each side of the top of baseball placard for shoulder straps, and one on each side of the baseball for underarm straps. Attach four loop halves of the 6" strips of STICKY BACKŪ brand tape to other end of the four ribbons and attach the other four hook halves of the tape strips to back of second circle (the back of the baseball plackard). Press hook and loop strips together to secure suspenders and underarm straps, and adjust to fit the child.

What You Need
Black robe
Broomstick
Black Permanent Marker or "Painters" marker
Cauldron with handle
Black witches hat
Face paint
Glasses (see below)
How To Make It
Buy a black robe and witches hat, found at Costume stores such as Aurthers Halloween superstore.
Write Firebolt on a broomstick with marker.
Use a cauldron as your trick or treat bag.
Use face paint to draw the lightning scar on your forehead.
Make glasses using Making Friends Harry Potter Glasses pattern.