Guy Fawkes Casserole
Serves 4
Description/Notes:

A warming stew to fortify the family before going out to watch the fireworks; great with a baked potato

Ingredients:
one and a half pounds (675g) stewing beef

2 large carrots, sliced

1 large onion, peeled and roughly chopped

1 tsp. curry powder

1 tsp. chilli powder

half an ounce (13g) plain flour

half an ounce (13g) dripping

salt and pepper

half a pint (250ml) beef stock
Cooking Instructions:
Dice the beef into 1 inch cubes


Melt the dripping in a saucepan and fry the onions and carrots for about 5 minutes


Add the beef and brown it on all sides


Gradually stir in the flour then add the chilli, curry, stock, salt and pepper


Bring to the boil then reduce heat, cover and simmer gently for about 2 hours


Serve with a baked potato
Bonfire Potato Dogs
Serves 4
Description/Notes:

A tasty bonfire snack or supper that can be made in minutes in the microwave

Ingredients:

4 medium baking potatoes

six and a half ounce (180g) can of hot dog sausages

2 tsp. curry paste

4 oz. (125g) button mushrooms

1 oz. (25g) butter
Cooking Instructions:
Scrub the potatoes and pierce with a fork


Microwave on Full power for 18-20 minutes


Wrap potatoes in foil while making filling


Melt the butter in an oblong microwave bowl for about 30 seconds on Full power


Stir in the mushrooms, cover and cook on Full for 2 minutes


Stir in the curry paste and place the sausages into the mixture


Cook for 2 minutes on Full power


Cut open the baked potatoes and share the sausage and mushroom mixture between them
Gingerbread Men
Gingerbread has always been popular in the north of England. Children love these shapes.
Makes 16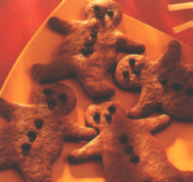 Plain flour - 350g (12 oz)

Bicarbonate of soda - 1 tsp

Ground ginger - 2 tsp

Butter - 110g (4 oz), diced

Soft light brown sugar - 175g (6 oz)

Golden syrup - 4 tbsp

Egg - 1, beaten

Currants - to decorate
METHOD
Pre-heat oven to 190 °C / 375 °F / Gas 5.


Sift the flour, bicarbonate of soda and ginger into a mixing bowl. Rub in the butter until the mixture resembles fine breadcrumbs, then stir in the sugar. Beat the syrup into the egg, then stir into the flour mixture. Mix together to make a smooth dough.


Knead the dough until smooth, then divide in half. Roll out, half at a time, on a floured surface until about 0.5 cm (¼ inch) thick.


Using a gingerbread man cutter, cut out gingerbread men until all the dough has been used up, re-rolling and cutting the trimmings. Repeat with the second half of the dough. Place the gingerbread men on greased baking sheets and decorate with currants to represent eyes and buttons.


Bake for 12-15 minutes until golden brown. Leave on the baking sheets to cool slightly, then transfer to wire racks to cool completely. Store in an airtight container.
Bonfire Fried Chicken
Description/Notes:

Super sizzling fried chicken coated in breadcrumbs that tastes delicious with a baked potato and corn relish

Ingredients:

1 chicken

juice of one lemon

1 tbsp. chopped parsley

salt and pepper

1 egg

1 cup breadcrumbs

1 tsp. oil

1 tsp. paprika

1 tsp. water

oil for frying
Cooking Instructions:
Wipe the chicken and cut into joints


Season with salt and pepper and sprinkle with parsley and lemon juice


Leave to marinade for at least 2 hours, turning the joints occasionally


Beat together the egg, oil and water and brush the chicken pieces


Coat the joints with breadcrumbs then stand for 15-20 minutes


Heat the oil to smoking point and cook the chicken joints fro 15 minutes, turning from time to time


If you prefer your chicken joints really well done, heat in a moderate oven for a further 10 minutes
Spiced Guy Fawkes Night Punch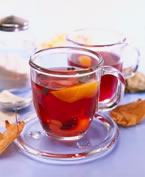 Makes approximately 18 glasses
2 bottles inexpensive red wine (approx. 1.2 ltrs / 2 pts)

1 bottle medium dry cider (approx. 20 fl oz / 1 pt)

½ - 1 carton unsweetened apple juice

2 - 3 spice bags for mulled wine

10 cloves

The juice and finely pared zest of 2 - 3 oranges

3 Cox's Pippin apples, cored and sliced

3 bay leaves

280g / 10oz Whitworths golden granulated sugar, or sweeten to taste
Method:
Add all the ingredients to a large pan and bring the liquid to boiling point. Reduce to a gentle simmer and leave for 20 minutes. Add fresh slices of apple and orange. Serve hot.
Tip: Use decorative biscuit cutters to cut the orange skin into stars and moons to float on top of the punch.
BONFIRE TOFFEE

You will need:
1. Put all the ingredients into a strong saucepan and stir over a steady heat until the sugar has dissolved.

2. Bring to the boil and cook until the mixture reaches the 'hard crack' stage, 290 degrees F. To test for the hard crack stage drop about half a teaspoon of the mixture into a cup of cold water, if it is hard then it is done, if still soft and chewy cook for a little longer and test again.

3. Pour into oiled or buttered tin and either allow to set as a slab or mark in squared as toffee becomes partially set. Break when completely set.

Variations 1 Use black treacle instead of golden syrup 2 Add peanuts or chopped mixed nuts.
Mix the dry ingredients . Heat treacle and butter; add to the dry mixture and leave to stand overnight. Place in a well-greased shallow baking tin and bake in a moderate oven for about 2 hours. It is done when the parkin springs back when touched.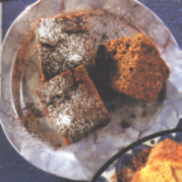 Yorkshire Parkin
8 ozs self raising flour

4 oz butter 8 ozs oatmeal

1 teaspoonful ground ginger 8 oz treacle

2 teaspoonfuls bicarbonate of soda

4 oz sugar

1 egg

1 gill milk Pinch of salt
Rub the butter into the sieved flour, then add the rest of the dry ingredients, the treacle, milk and beaten egg. Mix well together. Put the mixture in a prepared shallow tin and cook in a slow oven for about 2 hours. When cool , cut into squares.