Midis From the 16th & 17th Century
This Midi collection has been compiled from available free for use Midi Sequences on the web. If any of these are copyright and the sequencer wants credit for the same kindly Contact Us and the same will be provided. Feel free to Share and enjoy this collection of music, from composers living in 1605.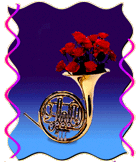 BASSANO, Giovanni (c.1558-1617) Italian
BYRD, William (1543-1623) English
CAMPION, Thomas (1567-1620) English
CROCE, Giovanni (c.1557-1609) Italian
DOWLAND, John (1562-1626) English
FARNABY, Giles (c.1560-1640) English
GASTOLDI, Giovanni (1550-1622) Italian
GIBBONS, Orlando (1583-1625) English
HASSLER, Hans Leo (1564-1612) German
RAVENSCROFT, Thomas (1590-1633) English
VECCHI, Orazio (1550-1605) Italian
WILLAERT, Adrian (c.1490-1652) ?