Guy Fawkes Life, Family and
Other Conspirators
Guy Fawkes

Born: 1570 at York, Yorkshire

Baptized: 16th Apr 1570 at Saint Michael-le-Belfrey, York, Yorkshire

Died: 31st Jan 1606 at Old Palace Yard, Westminster

Schooled: Saint Peter's in York England

14 October 1591 Fawkes leased from Christopher Lomley of Yorke, tailor, "three and a half acres in Clifton, with one other acre there, and a barn and garth attached to Gilligaite" for twenty one years

Fawkes left England in 1593 or 1594 for Flanders. He enlisted in the Spanish army under the Archduke Albert of Austria. Fawkes held a post of command when the Spaniards took Calais in 1596 under the orders of King Philip II of Spain

November 5, 1605, Fawkes was arrested in the cellars of Parliament House. He first gave his name as John Johnson. It is after this the plot unfolds to one of the greatest catholic anarcho-synidicates of the last millennium.
Guy Fawkes Family
Father: Edward FAWKES Born: about 1533 Died:1578 or 1579 Buried: 17th Jan 1579 at York Minster, York, Yorkshire

Mother: Edith FAWKES (maiden name BLAKE or JACKSON) Married in York in 1566 to Edward

Sister: Anne born 3 October 1568, berfore Guy was born, lived a mere seven weeks, buried on 14 November 1568

Sister: Anne FAWKES Born: 1572 Baptized:12th Oct 1572 at Saint Michael-le-Belfry, York, Yorkshire

Sister: Elizabeth FAWKES Born:1575 Baptized:27th May 1575 at Saint Michael-le-Belfry, York, Yorkshire
Five core members of the gunpowder plot:
Guy Fawkes, born in 1570, in York England, died 1606.

Arrested in Palace of Westminster on 4th November 1605.

Robert Catesby: Born: 1573 Died: 8 November 1605, Holbeache House, Staffordshire. Mover of the scheme.

Thomas Wintour Born: 1571 Died: 31 January 1606, Old Palace Yard, Westminster

Thomas Percy: Born: 1563 Died: 8 November 1605, Holbeche House. Catholic convert.

John (Jack) Wright Born: 13 January 1568, Welwick, Yorkshire Died: 8 November 1605, Holbeche House, Staffordshire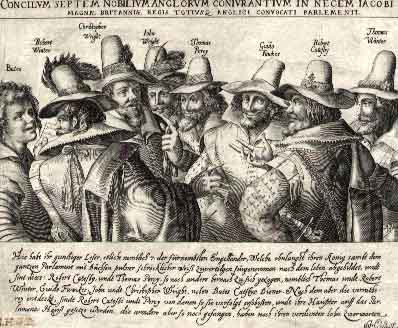 Other conspirators in the gunpowder plot:
Kit Wright: brother of John and schooled with Guy Fawkes, cousin of Francis Tresham.

Francis Tresham: tryed to get the other to postpone the plot.

Robert and Thomas Wintour: brothers.

Thomas Bates: servant of Catesby.

Robert Keyes: Who took charge of gunpowder at Lambeth.

Sir Everard Digby: Resided in Coughton Court; he sent the horses for the plotters.

Hugh Owen: Introduced Fawkes to Catesby.

Ambrose Rookwood: A late arrival. He was young and educated abroad.

John Grant