Ingredients
For Koftas:
Paneer : 250 gms
Potatoes : 3 nos (boiled & mashed)
Coriander & Cumin seeds Powder : 1 tsp
Salt : 1/4 tsp
Oil : for frying
For Gravy:
Ginger Garlic Paste : 1/2 tsp
Onions : 3 nos
Green chillies : 6-8 nos
Turmeric : 1/2 tsp
Cashewnuts : 100 gms
Poppy Seeds : 50 gms
Milk : 1/2 cup
Garam Masala : 1 tsp
Salt : 1 1/2 tsp
Butter : 3 tsp
Water : 4 cups
Lemon Juice : 1 tsp
Coriander Leaves : for garnishing
Method for Koftas:
Grate the paneer and mix well with the mashed potatoes.
Add the salt and coriander and cumin seeds powder. Mix well and make into round balls.
Heat oil in a pan and deep fry the koftas till golden brown and keep aside.
Gravy:
Soak cashewnuts and khus-khus in luke warm milk and keep aside for 20 min and grind it to a smooth paste along with the milk.
Make a paste of onions and green chillies and keep aside.
Heat the pan, add the butter to it. Add onion-green chilli paste and ginger-garlic paste and fry till oil separates.
Add tumeric powder. Add the cashewnut paste and fry for 3 min on a low flame.
Add salt and garam masala to the gravy. Pour water into the gravy and let it boil for 5 min. Put off the flame and add lemon juice to it.
Dump the koftas into the gravy, garnish with fresh coriander leaves and serve hot.
Ingredients: 2

500gms. peas mashed coarsely
4-5 green chillies
1 tsbp. plain flour
1 tsp. cornflour
1/4 cup rawa (semolina) or fine breadcrumbs
1/2 tsp. pepper powder
salt to taste
few drops green colour (optional)
oil to deep fry
METHOD:
Mix together all ingredients except rawa or breadcrumbs.
Shape into patties with a greased hand.
Roll in crumbs or rawa. Heat oil to deep fry.
Fry in hot oil on medium, till crisp and brown.
Turn, repeat for other side.
Drain on kitchen paper or rack.
Serve hot with green and tamarind chutneys or tomato sauce.
Ingredients :
Gram dhal - 2 cups
(channa dhal)
Coriander leaves - 1/4 cups
Salt - 3/4 cups
Curry leaves - little
Red chillies - 4
Green chillies - 3
Ginger - 1 cm
Onion - 2

Method
Soak gram dhal in water for 2 hours. Wash with water and drain off water. Chop onion, gren chillies, curry leaves and coriander leaves. Grind the dhal coarsely with red chillies. Add all the other ingredients - make into wadas, deep fry in oil till golden in colour. Can be served hot or cold - very tasty with dahi-bath.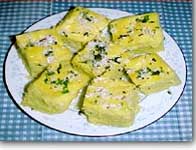 Rice-250 gms.
Urad Dal-50 gms.
Sour curds-2 tbsps.
Baking soda-A big pinch
Sugar-1 tsp.
Cumin seeds, coarsely pounded-1 tsp.
Mustard seeds, roasted-1 tsp.
Coconut, grated-4 tbsps.
Coriander leaves-Handful
Salt-To taste

Method:

Wash and soak both the dals and rice separately for 6-8 hours.
Drain, grind them coarsely and mix the curds & soda.
Add enough hot water to form a batter and keep this mixture overnight.
Next morning mix the salt, chili powder, sugar and a little turmeric powder.
Pour this mixture in a lightly greased thali and steam till firm.
Cut into pieces and sprinkle grated coconut, coriander leaves and mustard.

Do not forget to send in your own recipes, if possible with photographs of your cuisine as well to webmaster@twilightbridge.com and we shall publish it with due credit to you.