Ingredients

2 cups plain flour (maida)
1 tbsp. Ghee
1/4 tsp. ajwain (Oregano seeds) seeds
Salt according to taste
Warm water to make dough
ghee (clarified butter) for deep frying

Serve with Pickle.

Method

1. Blend together maida (all purpose flour, plain flour) and salt, rub in the Ghee(clarified butter) and then add enough water to make a smooth pliable dough.
2. Make small thin rounds out of all the dough. Prick them on both sides with a fork. Allow to dry a bit for 20-30 minutes.
3. Now heat oil/Ghee(clarified butter) in a pan and deep fry a few at a time to a pale gold color.
4. Drain thoroughly and cool and store in air-tight containers.





Cauliflower-½ kg.
Ginger, sliced-1" piece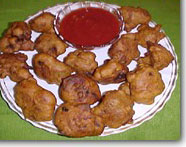 Pomegranate seeds, crushed-1 tbsp.
Coriander seeds, coarsely ground-½ tsp.
Cumin seeds-1 tsp.
Ajwain-¼ tsp.
Soda
A pinch
Chili powder-To taste
Ghee- 2tbsps
Oil for deep frying
Salt-To taste

Blend flour, ginger, soda and all the seasonings together by adding little water to form a batter of medium consistency.
Then stir in the ghee and keep aside for ½ an hour.
Break the cauliflower florets and parboil them.
Once cool dip them in the pakoda batter and deep fry till golden brown in colour.
Serve hot with chutney.

Ingredients

1/2 kg. Wheat Flour
11/2 cups. Water
1 1/2 tsp. Ajwain
2 tbsp.. Oil
Oil for frying As required
Salt according to taste


Method

1.Sieve the wheat flour and rub the oil into it. Then add the salt, Ajwain (oregano) and mix well.
2.Make a well in the center, add enough water and knead into a stiff dough.
3.Heat oil in a kadhai, to smoking point.
4.Roll out the dough into big size Chapati and cut it into long strips. Now put these long strips into the hot oil.
5.Remove from the oil when crisp and golden brown in color.
6.Drain on tissue paper , cool and store in airtight containers.


Ingredients

1 cup Whole wheat flour
11/2 cup maida (plain flour)
1/3 cup sugar
1 tsp. Saunf
1/3 cup ghee
ghee (clarified butter) to deep fry
Little Bit of Water for kneading the dough

Method

1.Mix the above ingredients with a little water and knead into a soft dough.
2. Divide dough into equal parts and roll out into thick chappatis.
3. Cut with a cookie cutter or knife into small diamond shapes. Lift with spatula and keep aside on a dry cloth for 1 hour.
4. Deep fry in hot Ghee(clarified butter) over slow flame till light golden brown.
5.Drain well and keep aside till cool. Store in clean, dry containers.

Do not forget to send in your own recipes, if possible with photographs of your cuisine as well to webmaster@twilightbridge.com and we shall publish it with due credit to you.