Ingredients:
3 red bell peppers, seeded and finely chopped
2 green bell peppers, seeded and finely chopped
10 jalapeno peppers, seeded and finely chopped
1 cup cider vinegar
5 cups white sugar
1 (1.75 ounce) package powdered pectin

Method:
Free Christmas Wallpapers and Screensavers
Ingredients:
1 bag (12-ounces) fresh cranberries
1 medium orange
2/3 cup honey
dash ground cloves
dash ground ginger
1/2 to 3/4 cups chopped walnuts (optional)
Method:
Cut the orange into 8 sections,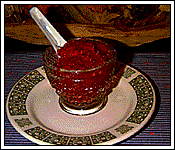 keeping the peel on. Remove and discard any seeds. Place half the cranberries and half the orange sections in a food processor. Coarsely chop, pulsing the blade, being careful not to chop too finely. Pour the mixture into a medium mixing bowl.
Add the remaining ingredients to the processor, pulsing again until coarsely chopped. Add to the mixing bowl. Stir until both batches are mixed together. Chill until ready to serve. Stir before serving.
Free Christmas Wallpapers and Screensavers

Pickled Peaches
Ingredients:
10 Pounds peaches
5 Pounds white sugar or 4 1/2 pounds of brown sugar
5 Cups of best cider vinegar
6 Sticks of cinnamon
12 Whole cloves
1 Teaspoon allspice
Method: Skin the peaches by scalding them for 40 seconds with boiling water. Drain and dash them into cold water. Cook the sugar, vinegar and spices for 10 minutes, or until the syrup is well seasoned. Gently boil a few peaches at a time in the syrup until they can be pierced with a straw. Skim them out and continue until all the peaches are cooked. Fill the jars with the peaches, pour the boiling syrup over them, filling the jars and seal. One of cinnamon may be put in each quart jar.
Free Christmas Wallpapers and Screensavers

Sweet Potatoes and Apples for Christmas
Ingredients:
3 Sweet potatoes*
1 c Apples; sliced and peeled
1/4 c Sugar; brown
Cinnamon
Butter
1/4 c Apple juice or water
Method:
Peeled, then cut in half and sliced.
Cook sweet potatoes covered till nearly done in very little boiling water.
Grease baking dish and place alternate layers of sweet potatoes and apples.
Add cinnamon to the brown sugar. Sprinkle layers with sugar mixture. Dot with butter and pour over the water.
Bake for about an hour at 350 degrees F.



Free Christmas Wallpapers and Screensavers