Poinsettia Broaches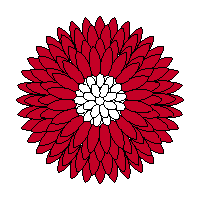 Poinsettias are the flower of the Christmas season. These easy to make broaches will bring out the holiday cheer in all who see them. Make one for yourself or make several to give as gifts.
Parental supervision is recommended.
This project is rated easy to do.
What You Need
Pumpkin seeds
Navy beans
Safety pins
Red paint (high gloss is the best)
Poster board
White glue (such as Elmer's)
Hot glue gun, optional
High gloss Urethane spray paint, optional
How To Make It
Note:
Leave the shell on the pumpkin seeds. I bought roasted shells from a bulk food store.
Cut a 2 inch round circle out of poster board.
Apply glue on the outside edge (about a 1/2 inch wide) of circle and start gluing pumpkin seeds around edges. Let the seeds 1/2 hang over the edge and have the pointed side of the pumpkin seed out.
Apply more glue and overlap pumpkin seeds over the 1st row.
Repeat step 3 two more times. This will leave a small circle in the middle of the poster board. Let dry for 20 minutes.
Paint pumpkin seeds red and let dry.
Glue navy beans in the center.
Spray with urethane, if desired.
Glue a saftey pin on back.