Desserts & Cakes
Desserts and Cakes

Christmas Cake
Ingredients:
6 Eggs
1 c Of sugar
1/2 lb Melted butter
1 c Of flour
1 ts Of vanilla
Fruit stuff:
1/2 c Of flour
1 lb Candied cherries
1 lb Candied pineapple
4 c Of chopped pecans
Method: Batter:
Mix batter items together. Flour the fruit stuff items.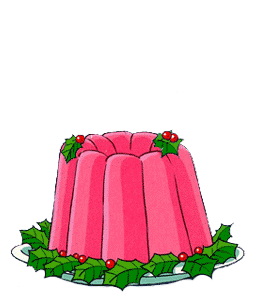 Place
the fruit stuff into a greased Angel Food cake pan (I use a Bundt
pan). Pour the batter over the fruit stuff. Bake at 300 degrees
until done (about 1 1/2 hour.

For a cupcake version:
Bake 15 minutes at 300 degrees, brush on Honey. Continue to bake
for 15-30 minutes more. (use two cupcake papers per serving.

With the cake freshly removed, I use a hypo and inject with one
shot of the following: Rum Amaretto (Almond flavor) Triple Sec
Orange), Gran Marnier (Orange).

Make these a month or so early. Wrap in SaranWrap place in
refrigerator.

Bring back to room temp. before serving. Hope you enjoy this as
much as we have.
Free Christmas Wallpapers and Screensavers


Christmas Pudding
Ingredients:
8 oz chopped suet
1 heaped teaspoon mixed spice
1/2 teaspoon grated nutmeg
1/4 teaspoon ground cinnamon
4 oz self raising flour
1 lb soft brown sugar
8 oz white breadcrumbs
8 oz sultanas
8 oz raisins
20 oz currants
2 oz chopped almonds
2 oz mixed chopped peel zest of 1 orange and
1 lemon 1 apple peeled. cored, and finely chopped
4 standard eggs
10 fl.oz stout (eg Guiness, or use a porter type stout)
4 tablespoons rum (use a dark, well flavoured one)
Method:
Mix thoroughly the suet, flour, breadcrumbs, spices, and sugar. Mix in the fruit, mixed peel, nuts, chopped apple then the zest. In a new bowl beat the eggs and add the stout and rum. Add to the dry ingredients, and stir VERY well ( it is best to use a very large bowl). Cover the bowl and leave overnight. Grease 2, 2 pint pudding basins and pack the mixture into them. Cover with greasproof paper and pudding cloths, tied on with string. Steam for 8 hours. Cool, and store in a dark, cool, dry cupboard. To reheat for eating, steam for 2 hours
Serve with..: Cumberland Rum Butter 6 oz unsalted butter 6oz soft dark brown sugar 6 tablespoons dark rum Blend butter and sugar, add rum slowly, and mix well. Pack into moulds for serving and chill. Remove from 'fridge just before serving.
Free Christmas Wallpapers and Screensavers
Ingredients:
200 grams (.45 lb) semi-sweet chocolate
1/2 cup water
5 eggs (seperated)
1 tsp. instant coffee (if desired. vanila flavoring (extract or powder)
2 tbsp. conf. sugar.
Method:
Melt the chocolate in a pan, over low heat, with a few tbspns of water. Beat the egg yolks and add them to the chocolate with the instant coffee. Beat the egg whites with the conf. sugar until thick, and then beat a few minutes more. Add the beaten egg whites to the melted chocolate and *slowly* mix it in. After that, we usually place it in small, glass, personal-size bowls, and refrigerate until it gets thick. You could also put it in one large one, or, for a formal occasion, champagne glasses.
Free Christmas Wallpapers and Screensavers
Ingredients:
Sift together: 2 1/2 c. flour
3 tsp. baking powder
1 tsp. baking soda
1/4 tsp. salt
Cream together
1 c. butter or margarine
1 c. sugar
3 eggs beat the eggs in one at a time
Add to the creamed mixture
1 c. sour cream
2 tsp. vanilla.
Add flour mixture to creamed butter mixture and mix together.
Mix together the following:
1 c. chopped nuts (we always used walnuts_
1 c. chocolate chips
1/2 c. brown sugar
2 tsp. cinnamon

Grease a tube pan (angel food cake pan). Pour 1/2 the batter in the pan then sprinkle on 1/2 the chocolate chip mixture. Add the remainder of the batter, then sprinkle the remainder of the chocolate chip nut mix on top. Bake 1 hour at 350F.