The Himalayas shone in the twilight sun. The valley below bore a clean virginal look as numerous waterfalls gushed downwards to form gurgling brooks. The intoxicating scent of pine filled the air. The atmosphere was invigorating. Intoxicating. Since the time the Britishers discovered this celestial piece of earth to the outside world, the ambience of the place seems almost unchanged. The peace, tranquility, cleanliness and the ethereal beauty almost slams the senses as soon as one enters into this Himalayan resort. Standing atop a hill surrounded by coniferous forests, with all its olde worlde charm, this sylvan retreat offers an ineresting mix of hill and military cultures.
Welcome to the Queen's Fields - Ranikhet.
______________________________________________________
General Information:
Area: 21.76 sq. km.
Population: 18174 (1991 census)
Altitude: 1829 mt above sea level.
Season: April to June; September to October
Clothing:

Summer - Light Woolens
Winter - Woolens

Language: Hindi, Kumaoni and English
Local Transport Taxis/Jeeps/Buses
STD Code 05966
Banks

Punjab National Bank. Ph : (05966)2630
State Bank of India, Gandhi Chowk, Sadar Bazaar. Ph : (05966)2262, 2680

Post Office

Head Post Office, Mall Road. Ph : (05966)2226, 2636

Hospital:

Civil Hospital, Near Bus Stand. Ph : (05966)2422

Tourist Information Bureau

Government of UP Tourist Bureau, The mall Ph : (05966)2227
Getting There:
AIR
Nearest Airport, Panthnagar- 112 km.
RAIL
Nearest Railway heads are Kathgodam- 80 km & Ramnagar- 96 km.
ROAD
Ranikhet is well connected by roads to important centres in the region. Some of the major distances are : Almora ( 49 km. ) Delhi ( 386 km ) Nainital ( 59 km. ) Kathgodam ( 80 km.)
Tourist Attractions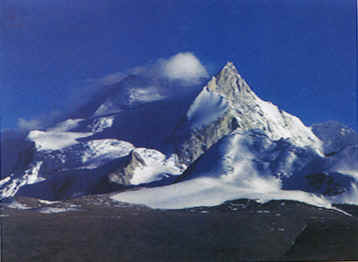 According to legend, a queen, in the course of a journey came here and was so enchanted by it's beauty that she settled down here. And thats why the name Rani-Khet, meaning Queens Fields. Boasting of beautiful forests of oak and pine, Ranikhet at 1829 mtrs. offers a stunning panoramic view of the Himalayas - from the Bhagirathi peaks in the west to Nanda Kot in the east.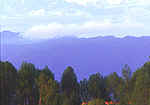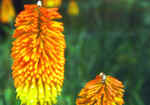 CHAUBATIA
10 km. from Ranikhet on a motorable road, Chaubatia is a vantage point set amidst gardens. On a clear morning a 300 km. wide view of the snow-clad Himalayan peaks can be seen clearly from Chaubatia. The NandaDevi, Trishul, Nandaghunti and Nilkanth peaks are very clear.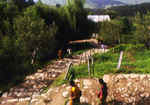 Bhaludam, 3 km. from here, has an artificial lake. Supposed to be one of India's largest horticultural gardens, the Govt. Fruit Research Centre is located here. As the name implies, these are four, fruit gardens, with a Government Fruit Research Centre, complete with a fruit sales depot and cafeteria. Spanning over an expanse of 265 acres, 36 varieties of apples are grown at Chaubatia, four of which are exported.

JHULA DEVI TEMPLE
This secluded temple dedicated to Durga has beautiful bells, echoes of which are heard from some distance. Nearby is a temple of Lord Rama.
UPAT & KALIKA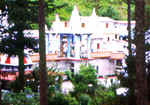 With one of the best 9 hole golf links in the country, Upat is a boon to the enthusiast. With the added attraction of private orchards, it is 5.6 km away. Just one kilometre from Upat is Kalika with its famous temple to the Goddess Kali. It also has good forest nursery. A beautiful snowcapped mountain peak is available on the other side of the golf link at Upat. From Kalika a 45 minute drive away, through misty, pine forests is another temple, the Binsar Mahadev.

EXCURSIONS
MAJKHALI
13 km. A vantage point on the road to Almora. On the Ranikhet - Almora road, 13 km, is a spot of entrancing, celestial beauty. Here is an awe-inspiring view of the majesty of the snowy peaks. The U.P. Government Agriculture Farm is situated here.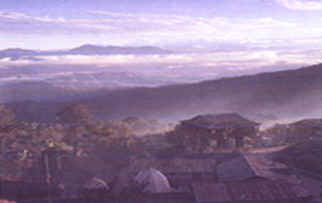 SHITALAKHET
35 km. Scenic spot offering a fine view of the Himalayas. It has lush orchads and is also known for its herbal and medicinal plants. It is an ideal place for a peaceful holiday.
DWARAHAT
37 km. Believed to be the seat of the ancient Katyuri Dynasty, the town has a cluster of old temples divided into 8 distinct groups.
DUNAGIRI
52 km. Famous for its temple dedicated to Durga Devi. The temple bears an inscription dating back to 1181 AD
PRIME ATTRACTION: Nanda Devi Fair
Nanda Devi Mela is a fair of great religious and cultural significance. It is held at Nanda Devi Temple in September to commemorate the memory of goddesses, Nanda and Sunanda.

Accomodation

Tourist Rest House, Mall Road. Ph (05966)2297
West View Hotel, M.G. Road/ Mall Road. Ph : (05966)2261, 2396
Parvati Hotel, Ratan Place Compound, Sadar Bazaar, Ph : (05966)2325
Rajdeep Hotel, Sadar Bazaar. Ph : (05966)2447
Alka Hotel, Gandhi Chowk, Sadar Bazaar, Ph : (05966)2269
Natraj Hotel, Sadar Bazaar. Ph : (05966)2378
Everest Hotel, Sadar Bazaar. Ph : (05966)2402
Tourist Hotel, Sadar Bazaar, Ph : (05966)2223
Ranikhet Club, Mall Road. Ph : (05966)2611
Norton'sís Hotel, The mall. Ph : (05966)2377
Meghdoot Hotel, Mall Road. Ph : (05966)2475
Kalika Tourist Rest House ( KMVN. ) Ph : (05966)2297
Himadri Tourist Rest House ( KMVN), Chinianaula Ph : (05966)2588.